Steve Fishwick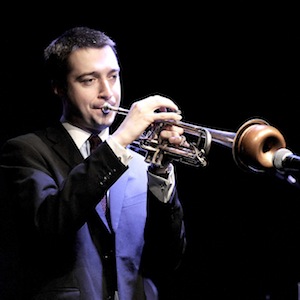 Steve Fishwick was born in Manchester in 1976, along with his identical twin brother, drummer Matt Fishwick. They grew up on a diet of big band jazz fed by their parents' record collection, before graduating to the sounds of Charlie Parker and Miles Davis. They entered the then thriving Manchester jazz scene, playing their first professional gigs whilst still in their early 'teens, with musicians that are now key players in the London and European scene.
They left Manchester in 1994 for London to study at the Royal Academy of Music. Since leaving the Academy in 1998, where he earned a Bachelor of Music degree, Steve has played with most leading UK jazz musicians (Sir John Dankworth, the BBC Big Band, Peter King and Mike Carr amongst many, many others), many of the leading European musicians such as George Mraz, Dado Moroni, Claus Raibler and Joe Haider and many US musicians such as Anita O' Day (recording with her on her last album 'Indestructible!'), Scott Hamilton, Herb Geller, Lanny Morgan, Richie Cole, Ben Dixon, Bob Cranshaw, Earl May, Lew Soloff, Clifford Jarvis, Ronnie Cuber, Keith Copland, John Riley, Brad Leali and Hod O' Brien. He won the 2002 British Jazz Awards 'Rising Star' prize and in the same year toured the UK with Alan Barnes in place of the great U.S. trumpeter Conte Candoli, who had sadly and unexpectedly passed away.
Steve leads his own quartet and co-leads a quintet with Welsh saxophonist Osian Roberts, with whom he recorded an album in NYC with legendary American pianist Cedar Walton and bass great Peter Washington, released in September 2009. His latest project is 'The Fishwick Brothers Quintet', co-led with his brother Matt (who recently returned to the UK after living in New York for 5 years). See the 'Fishwick Bros.' page for demo tracks. On the more commercial side of music he has performed with such stars as Kylie Minogue, Jools Holland and Jamie Cullum and he can be heard playing the jazz trumpet solos on the soundtrack to the new British movie release 'Sex And Drugs And Rock And Roll' (starring Andy Serkis of 'Gollum' fame). He has released three CDs on the Hard Bop Records label and has performed all over Europe and in New York on numerous occasions. Steve has taught Trumpet at the International Summer Jazz Workshop in Prague for the past 3 years and is professor of jazz trumpet at the Guildhall School of Music and Drama and London City College. He also teaches privately; please contact for details.